Membership in Coronation Park Residents Association (CPRA) is free to all residents living within association boundaries: Third Line in the West, Rebecca Street in the North, Lake Ontario in the South and Fourth Line in the East.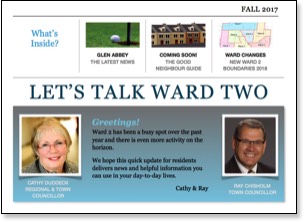 Membership is a great way to stay abreast of the activities within our boundaries. Over the past 15 years, we've successfully fought two major infill developments and preserved the character of our neighbourhoods.
We have an excellent relationship with our representatives at Oakville and Halton Region Council and rely on our communications with them to bring issues to the forefront. Click on the image at right to read the latest issue of the Councillor Duddeck and Councillor Chisholm newsletter.
Last but not least, CPRA is a place for information and answers. If you have an issue with an infill development, local property standards or you're simply wondering about your rights as a property owner in Oakville, we can often help.
Joining is easy. Click on the Sign Up button below and send us an email with your name, street address and your email. We'll automatically add you to our e-based mailing list and ensure you get all communications as they are sent. If you have additional questions or require assistance, please include them in the body of your message. We look forward to welcoming you as a member!